The Health & Beauty Bundle – Health advice & Anti-Aging Secrets for Women
In her exclusive RED HOT EBOOK OF SECRETS series, expert Relationship and Health & Wellness coach Abbe Lang reveals the secrets to successful relationships and staying young and healthy. Buy the series today!
Do you want to look and feel great at 50?
Tired of feeling older than you look?
Have you tried diet after diet, with no results in sight?
Do you want to look and feel young again?
Introducing: Abbe's Health & Wellness Bundle!
This bundle includes:
Abbe Lang has some incredible secrets to share with you!
The secrets of how health and beauty go hand in hand to give you results you won't believe. These valuable secrets are revealed in this four-book set – The Health and Beauty Bundle. Imagine making a few simple changes and feeling the bloom of youth again. It isn't a dream! Abbe can show you how.
Discover how to improve sleep, reduce cravings, increase libido, put a stop to menopausal weight gain and maintain a healthy weight, control anxiety, and turn back the clock to look and feel better than you have in years. Abbe Lang has uncovered the secrets to achieve these exciting benefits and many more. All of them are waiting for you to start using today in this money-saving e-book bundle.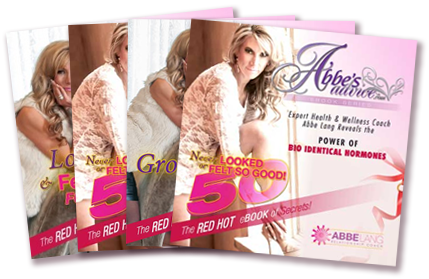 List Price: $60
Sale Price: Only $30!
You Save: $30
Allison St. John
- The Power of Juicing
Cherokee McFadden
- October 2020
"I can sleep again! I was going through a rough phase of my life a couple of years ago and one of the side effects that occurred was insomnia. I was dealing with it for over a year trying new methods to get myself to sleep. Nothing worked ! I met Abbe and scheduled one coaching consultation with her. She gave me advice to help me treat my insomnia in a more efficient and healthy way. I went from barely sleeping at all (two hours a night) to having a normal and great night's sleep. The other night I slept 12 hours ! Now I don't wake up tired and drag myself throughout the day. I feel rested and have energy to burn the next day without relying on coffee or red bull. I have started to live a healthier lifestyle thanks to Abbe, all in one session."
Natalia Neubar
- April 2020
"I have known Abbe for over 15 years. During this time she has dedicated much of her life to the pursuit of natural approaches to health. As a student she has captured the truth that all great spiritual, scientific, and psychological principles teach at the most fundamental level. As a life coach she has enjoyed immense success helping others to help themselves to a happier, healthier way of life. I am proud to call her my friend."
Charles F. Forssell, III, N.D., Ph.D.
- Director – www.HealthUsersGroup.org
Only available for a limited time. Buy today!